London Crime City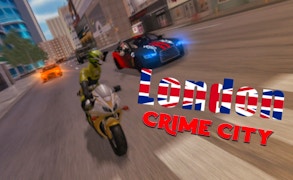 London Crime City
Immerse yourself in the gritty underworld of London Crime City, an adrenaline-pumping action-packed ride that blends elements of motorcycle games, gun games, car games, driving games, gangster games and battle games into one seamless, riveting experience.
The city of London is your playground and the opportunities are limitless. You'll navigate through a maze of bustling streets on foot or on wheels, engaging in high-octane chases and explosive shootouts. The game's driving mechanics are top-notch, blending realistic physics with smooth controls that make weaving through traffic on your motorcycle or car while evading the police a heart-racing thrill.
London Crime City isn't just about fast cars and motorcycles. It's a fully-loaded gun game too! Armed with an extensive arsenal of weapons hidden within the city, you'll engage in gripping battles against rival gangsters and law enforcement officials. The gunplay is intense and satisfying, leaving you feeling like a bona fide outlaw.
The game also lets you engage in grand theft aviation: Yes! Jump into helicopters, planes and even military tanks. Use these to gain an upper hand in missions or simply to explore the sprawling cityscape from above.
The storyline is richly layered with engaging missions that require strategic thinking and deft reflexes. One moment you could be robbing a wealthy businessman; the next you're evading the relentless pursuit of the London cops.
In London Crime City, secrets lurk around every corner. Embarking on secret missions offers chances to unlock top equipments—boosting your shot at becoming London's most notorious gangster.
As far as driving games go—or motorcycle games, gun games and gangster games for that matter—London Crime City ticks all boxes. It is as riveting as it's rewarding—promising hours of breathless action for gaming enthusiasts across the globe.
What are the best online games?