LOL Surprise Preppy Fashion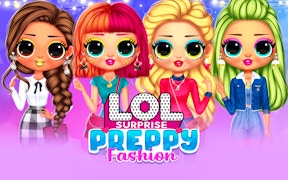 LOL Surprise Preppy Fashion
Description
In LOL Surprise Preppy Fashion, your style expertise is called upon to help an LOL Surprise doll explore the exciting world of preppy fashion. Your mission isn't just about finding an outfit; it's about creating a complete, stunning look that embodies the essence of preppy chic. Whether you prefer plaid skirts, knitted sweaters or adorable accessories, there's something to suit every fashionista's preference in this engaging game.
How to Play
This is a simple point-and-click game, easy for anyone to pick up and enjoy. Players must select items from the available options, choosing hairstyles, outfits, shoes and accessories. Browse through different tabs for each category and click on the items you want your doll to wear. Once you're happy with the look, proceed to show off your fashion creation!
Tips and Tricks
Remember that preppy fashion isn't just about the outfit - it's about creating a cohesive look. Make sure your hairstyles and accessories complement your chosen outfit. Don't be afraid to experiment with different combinations. Sometimes, unconventional choices can result in stunning looks!
Features
Showcase your creativity: With various clothing and accessory options available, let your imagination run wild!
Educational value: This game promotes decision-making skills as players choose among different options.
Fan favorite: Fans of Jojo Siwa will especially enjoy this fashion-forward adventure.
User-friendly interface: Easy navigation allows players of all ages to enjoy this game.
What are the best online games?