Light It Up Online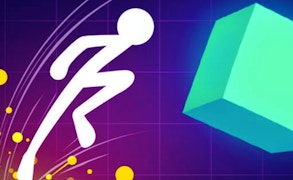 Light It Up Online
If you're a fan of arcade games, particularly ones that stimulate your fingers and challenge your reflexes, then the world of Light It Up Online is calling your name. This game falls under the category of clicker games, tap games, and stickman games,, blending all these genres into one addictive, neon-lit adventure.
Imagine being a stickman flip master, thrown into a dark world only you can light up. It's an extreme game of survival where every swing, jump, flip, or slide leaves a glowing neon color in its wake. Light It Up Online captures this thrilling experience to perfection.
The game ropes you in with its simplistic yet engaging gameplay mechanics. There's something satisfying about seeing the once dark shapes light up as your stickman character plummets and flips through them. Each click or tap on your device translates to awe-inspiring acrobatics, bringing life to the darkness with vibrant bursts of color.
The brilliance of Light It Up Online lies in its ability to keep players hooked with its progressive difficulty and fast-paced action. As you proceed higher in levels, the pace picks up, intensifying the adrenaline rush and making every successful landing feel like a monumental achievement.
All things considered, Light It Up Online is more than just a conventional arcade game; it makes its mark as one of those iconic stickman games that keep you coming back for more. Whether you're a seasoned gamer looking for another challenge or a beginner eager for an exciting pastime, this game promises unlimited fun and finger-tapping frenzy.
In conclusion, step into the world of Light It Up Online-- where each tap paints the darkness with neon-lit excitement and rhythmic arcade action takes center stage. Get ready to become the ultimate stickman flip master lighting up your journey one thrilling jump at a time!
What are the best online games?