Let's Fish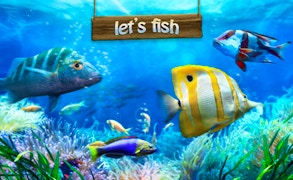 Let's Fish
Immerse yourself in the exciting world of Let's Fish, a splendid oasis amongst fishing games. Priding itself as the largest online fishing simulator game, Let's Fish invites players to cast their lines in an array of stunningly realistic locations. From tranquil lakes to roaring rivers, these meticulously crafted environments serve not only as your hunting grounds but also offer a tranquil escape from the mundane hustle.
Let's Fish isn't just about fishing; it's a riveting blend of Skill Games and Simulator Games. The gameplay is underpinned by a dash of competition and a dollop of serene relaxation. Whether you're angling for the thrill of topping daily rankings and grand tournaments or simply seeking the satisfaction from an excellent digital fishing experience, Let's Fish has got you covered.
No matter how skilled or new you are in the gaming world, Let's Fish doesn't discriminate. It caters to casual gamers looking for fun-filled pastime activities and competitive players who enjoy going head-to-head with their peers. And with great prizes up for grabs every day, every catch could be your ticket to gleaming rewards!
The appeal of Let's Fish is further illustrated by its massive fan base - millions worldwide choose to navigate its tranquil waters daily. So why wait? Don your fishing vests, ready your rods and join us in what could be your greatest gaming adventure yet.
In conclusion, if you're looking for a game that expertly combines excitement, serenity and friendly competition, then look no further than Let's Fish. This game truly embodies excellence in both skill and simulator gaming realms. Savor each moment as you reel in your biggest catch yet!
What are the best online games?