Ladder Race 3D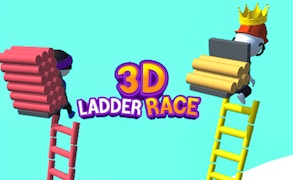 Ladder Race 3D
Description
Immerse yourself in the fast-paced, exciting world of Ladder Race 3D. In this thrilling arcade game, you'll find yourself racing against time and opponents to build ladders and surmount obstacles. The ultimate goal is simple - reach the finish line first. However, the path is laden with challenges that will test your reflexes and agility. This adrenaline-pumping game promises an exhilarating mix of strategy, speed, and precision.
How to play
The rules are straightforward – tap and hold to construct ladders that will help you overcome obstacles on your path. The ladders not only help you get past hurdles but also give you a speed boost. Remember – your journey is against time; every second counts! As a runner, your objective is to build quickly, run faster, and cross the finish line before your rivals do.
Tips and Tricks
Precision and timing are everything in Ladder Race 3D. Build your ladders judiciously – shorter ones for smaller obstacles and longer for higher hurdles. Ensure you use your momentum wisely to not only build but also climb faster. Keep an eye on the timer, focus on the track ahead, and always be ready for surprises!
Features
Fast-paced, exciting gameplay that tests your reflexes.
A blend of strategy, speed, and precision in a single game.
Vibrant 3D graphics coupled with engaging sound effects for immersive gaming experience.
Fierce competition with computerized opponents pushing you to your limits.
Tons of challenging levels for endless fun and excitement.
What are the best online games?