Kung Fu Fight: Beat 'em up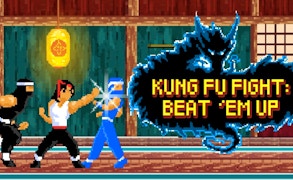 Kung Fu Fight: Beat 'em up
Step into the world of feudal Japan as I take you through a vivid journey of Kung Fu Fight: Beat 'em up, a game that perfectly amalgamates the action-packed realms of ninja games and boxing games.
In Kung Fu Fight: Beat 'em up, you are thrust into an adrenaline-inducing vortex where you face hordes of enemies and the Big BOSS. Perfect for gamers seeking a blend of fast-paced tap games and precision-required gymnastics games, this game will keep you hooked for hours.
The gameplay is designed to challenge your reflexes and strategic thinking, akin to the rigorous training regime of a Kung Fu master. Each level escalates in difficulty, requiring you to adapt and evolve swiftly while remaining unpredictable to your foes. You have a wide arsenal at your disposal - from old-school punches and high-flying kicks, to stealth maneuvers and special attacks that you unleash with fluid taps on your screen.
The uniqueness factor lies in its breath-taking combo feature - the dragon's attack. It is not just another level-up trick; it embodies the essence of traditional ninja games, rewarding strategy over button mashing, making every battle an invigorating experience.
The weapon assortment keeps the excitement levels soaring high. Shurikens fly across your screen as you master their usage, each successful throw bringing a sense of accomplishment. Knives, axes, kunai, nunchaku – each weapon presents its own challenge offering diverse methods to annihilate your enemies.
Kung Fu Fight: Beat 'em up isn't just one in many boxing or ninja games; it is an ode to traditional martial arts culture that engages gamers with an immersive storyline wrapped in action-packed sequences. Step into this riveting world of kung fu battle today for an unforgettable gaming experience.
What are the best online games?