Krishna Jump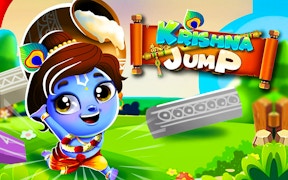 Krishna Jump
Immerse yourself into the vibrant world of "Krishna Jump", an enchanting entry amongst hyper casual games. A charming addition to your collection, this game invites you to partake in the delightful miracles of Lord Krishna's childhood during the auspicious season of Janmashtami.
Krishna Jump uniquely marries the world of tap games with wholesome narratives uplifting it from mere entertainment to a celebration of rich, cultural heritage. Plunge into a realm of vibrant colors and cute graphics that bring the playful divinity, Lord Krishna, to life.
The gameplay is deceptively simple yet masterfully addictive. Guide the young Krishna on his journey, leaping from platform to platform in his quest to knock down as many Dahi Handis as possible. Stay alert! The higher you ascend, the more slippery the platforms become. It's a balancing act that tests not only your reflexes but also your foresight.
One cannot overlook how this game stands tall amidst other games for kids, thanks to its engaging mechanics and delightful themes. Five beautifully rendered themes reflect the splendor of Janmashtami with every shattered Dahi Handi changing the theme. Keep breaking those Handis and experience a kaleidoscope of visual grandeur!
The gentle sound effects create a calming ambiance that perfectly complements the lively gameplay, making each second spent in this game a moment to cherish!
In conclusion, whether you are searching for a fun way to introduce your kids to Indian culture or simply seeking an addictive tap game, Krishna Jump delivers on all fronts. This charming game is an enjoyable journey imbued with culture and tradition - truly a refreshing gem in the world of hyper-casual tap games.
What are the best online games?