Kogama: Pro Run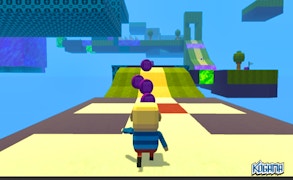 Kogama: Pro Run
Immerse yourself in the exhilarating world of Kogama: Pro Run, an electrifying blend of running games, survival games and skill games. This multiplayer 3D speed run race will have you on the edge of your gaming chair, heart pounding, sweat beading on your forehead as you dash towards victory.
In this adrenaline-soaked journey, competition is fierce and only the quickest will survive. Picture it, a starting line teeming with anticipation, and then -BANG!- you're off in a whirlwind of strategy and sheer speed. The objective is simple - touch the flag first and earn indisputable bragging rights. But don't be fooled into thinking this is just about speed; it's a test of finesse, courage and quick thinking.
The brilliance of Kogama: Pro Run lies not just in its high-speed chases but also in its masterful incorporation of survival and skill elements. It demands dexterous hand-eye coordination, sharp focus, lightning-fast reflexes, and strategic understanding. The track layout changes dynamically with each race, forcing players to adapt quickly to new environments keeping you guessing with each turn.
This game exemplifies what makes multiplayer running games so addictive and fun: the thrill of the chase, the satisfaction of outsmarting opponents, and that unmatchable adrenaline rush when you touch that flag before anyone else. Part running game, part survival adventure, part skill showdown - Kogama: Pro Run offers a unique gaming experience that's as thrilling as it is challenging.
Come for the fast-paced races; stay for the intense gameplay that beautifully marries speed with strategy. In Kogama: Pro Run, every second counts and every race could be your ticket to glory.
If you're a fan of running games or if you enjoy survival games that test your mettle under pressure or skill-based gameplay then this game was practically made for you!
What are the best online games?