King of Thieves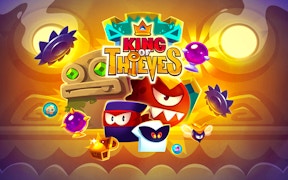 King of Thieves
Unlike many other genres, stealth games base themselves around skills and being able to get around areas without even being detected and King Of Thieves is all about skill. You are just a thief doing what thieves are meant to do which is stealing. You've got all the acrobatics needed to break into areas where chests full of riches are just waiting for you to open them. Of course, a desirable chest would never just be lying out in the open. You need to infiltrate where it's kept and then make your way past all the traps and guards to claim your bounty.
About King Of Thieves
While many stealth games can be challenging and complex in terms of all the angles that you need to consider, it doesn't have to be that way. This game takes the idea of thief-based stealth and turns it into an enjoyable arcade platformer. All of the information that you need to know is presented as soon as you enter the level. It comes down to your own skill and sense of timing to get there as smoothly as possible. You may fail a few times, but the real defeat is giving up and this is a type of thief that is built for endless attempts.
How to Play
King Of Thieves is a 2D platform game about getting a thief to some treasure using the mouse or keyboard. While the cursor is used to navigate the UI and pick the levels, the Thief will jump with a tap of the Left Mouse Button or Spacebar. The Thief will move at a constant pace in one direction and will only change direction when they hit a wall and you make them jump off of it. The goal of each level is to make it to the chest with as much health remaining as possible.

Each level is an obstacle course of traps and other various hazards. They take on several forms: Stationary, projectile, and mobile. Stationary traps like buzzsaws can be placed around the walls floors and ceilings to block your path. Projectile traps like cannons will fire bullets one at a time in a straight trajectory. Mobile traps take the form of enemies that will move in set patterns depending on their typing. If the thief makes contact with a trap, they will lose health and be sent back to the start of the level. Every time the thief takes enough damage to lose a star, the value of the gold in the chest will drop.
Tips and Tricks
This is sort of a strategy game since the thief has very limited movements and a very defined jump arc. Whenever you enter a level, take a moment to identify any safe areas where you rest to plan your next move.

Game Details
Developer: ZeptoLab
Platforms: Web Browser (PC and mobile), iOS, and Android
Languages: English, German, French, Spanish, Italian, Portuguese, Dutch, Japanese, Korean, Chinese, Arabic, Hebrew, and Russian

Gameplay Footage
FAQs
Is King Of Thieves online?
Of all the versions available, the app version comes with an online component that involves protecting your hoard by outfitting your hideout with your own set of traps.
Games similar to King Of Thieves
This kind of game fits neatly into the Mobile Games and Cut The Rope And Friends categories on GamePix. You can play more from ZeptoLab in C.A.T.S., Cut The Rope, Cut The Rope 2, and Cut The Rope: Magic.
What are the best online games?