Kill The Spy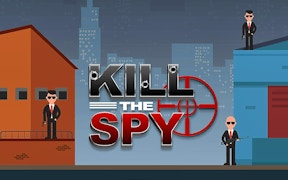 Kill The Spy
Kill The Spy sweeps you into a realm where every early morning fog brings new intrigue, and the clinking cocktail glasses are drowned by the silent cock of a pistol; a world where trusty pistols, enemy spies, and action-packed challenges await. It's a gem among gun games, with an element of mental agility that fits comfortably under the umbrella of brain games, harkening back to the gritty allure of old-school gangster games.
As Agent 007, your mission is simple yet thrilling - decipher the labyrinthine twists and turns to eliminate enemy spy agents. The game employs innovative physics and clever mechanics that demand both precision aim and strategic thinking. The goal? To split structures into multiple pieces using your spy pistol.
The game's strategy stands out amongst other games in its genre because it doesn't simply rely on brute force but uses thought-provoking tactics to outwit the enemies. As a player, you have to tap on specific blocks to annihilate your foes without harming hostages, infusing an element of humanitarianism amidst all the ruthlessness.
Every correctly placed shot and every hostage saved puts you closer to earning more stars. But there's more! Hidden treasures are scattered around, waiting for intrepid agents like yourself to discover them and boost your high score. This mix of gameplay features makes Kill The Spy stand tall in its category.
The theme does justice to the adrenaline-pumping tunes of classic spy films and evokes nostalgia with memorable sound effects. In essence, Kill The Spy is an enthralling experience that offers gamers a unique blend of action, strategy, physics-based puzzles, intensive thinking, all wrapped up in a classic gangster-spy theme.
If you're looking for a game that offers heart-pounding action while testing your wits at every turn – look no further. Kill The Spy is the perfect fusion between gun games and brain games with a generous serve of gangster themes on top.
What are the best online games?