Kick Master 3D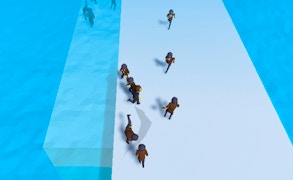 Kick Master 3D
For those who revel in the rush of adrenaline that only the fiercest battle games can provide, welcome to a new realm of action-packed delight - Kick Master 3D. This addictive hyper casual game redefines the genre with its emphasis on precision and skill, promising hours of pulse-pounding fun.
The mechanics of Kick Master 3D are deceptively simple. Your task? Click and kick - aiming to hurl your opponent out of the arena before they manage to do the same to you. But be not fooled by its straightforwardness - this is a battlefield where only honed tactics and quick reflexes prevail. It's a celebration of Skill Games, requiring razor-sharp focus and split-second decision-making capabilities.
The beauty of Kick Master 3D lies in its versatility. Be you a seasoned gamer seeking a fast-paced thrill or a casual player looking for a satisfying distraction, this game is sure to satiate your desires. The combat system offers both depth and accessibility, providing an engaging challenge without alienating newcomers.
The slick 3D visuals in Kick Master 3D are truly captivating, lending an extra level of immersion to your duels. The dramatic response each time your foot connects with an opponent is deeply satisfying, while successful kicks are punctuated by energetic animations that reinforce the game's hyper-casual atmosphere.
So step into the fray, and experience the excitement of Kick Master 3D. Few action games manage to capture the essence of battle while retaining such a fun and accessible style. Get ready to hone your skills, take on tough opponents, and rise from novice kicker to master champion!
What are the best online games?
Tags