Kazu Bot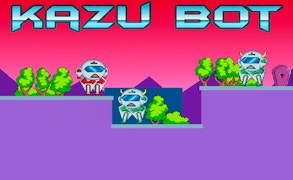 Kazu Bot
Description
In Kazu Bot, a breathtaking 2D action-adventure game set in a magnificent Sci-Fi universe, you embody a daring robot on an important mission. Your task is to recover all tablets holding crucial technological data, navigating through intricate levels filled with hostile bots, deadly spikes, and rotating saws. Each stage presents a unique set of challenges which increase in difficulty with your progress.
How to Play
The game controls for Kazu Bot are simple yet responsive. Use the "WASD" keys or the arrow keys to maneuver your character around the diverse set of obstacles. For leaps that demand more height, implement the double jump feature by pressing "W" or the "Up" arrow key twice rapidly.
Tips and Tricks
To excel in Kazu Bot, it is important to master the timing of your jumps and learn the patterns of enemy bots' movements. Also, make good use of your ability to double jump - it can save you from hazardous situations or enable you to reach hidden areas with secret tablets.
Features
A deep and engaging Sci-Fi story.
Easy-to-learn controls that provide a smooth gaming experience.
Gradually increasing difficulty levels for sustained challenge.
Vibrant 2D graphics that contribute to an immersive gameplay environment.
An array of enemies and traps making each level unique and challenging.
What are the best online games?