Kawaii Chibi Creator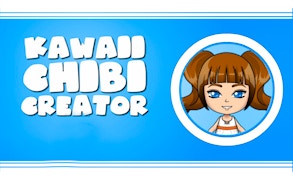 Kawaii Chibi Creator
Step into the colorful world of Kawaii Chibi Creator, an immersive and fun-filled fashion game for kids that blends the charm of anime games with the thrills of dress up games. This delightful game is specially designed for young girls who have a flair for fashion and a love for all things cute.
With Kawaii Chibi Creator, your kids get the chance to flex their creativity muscles and delve deep into the fabulous universe of fashion games. This game lets them create their own adorable Chibi characters, injecting personality and style into each sprite. From sparkling outfits to trendy hairstyles, this game is undoubtedly a treasure trove for budding stylists and hairdresser games enthusiasts.
The rich graphics and vibrant colors give Kawaii Chibi Creator an infectious charm that instantly bewitches its players. The range of hairstyles, clothes, and accessories to choose from is vast, ensuring that every chibi created is uniquely your child's own. The dress up segment of the game is particularly appealing as it lets users explore different styles, colors, and combinations.
The beauty of Kawaii Chibi Creator lies not only in its visual appeal but also in its engaging gameplay. As a part of engaging anime games genre, it's both educational & entertaining - where kids can learn about color coordination, style matching while having a blast! This user-friendly game fosters creativity amongst children and allows them to express themselves freely.
In conclusion, Kawaii Chibi Creator stands high on the list of games for girls due to its fantastic gameplay dynamics blended with captivating graphics. A perfect mix between hairdresser games and fashion games - with a unique touch of anime beauty. Without any doubt, it's a must-have addition to your kid's gaming collection.
What are the best online games?