Kanaksia 2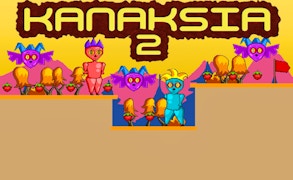 Kanaksia 2
Description
Dive into the adventurous world of Kanaksia 2, the enticing sequel to the original action-packed 2D platform game. As a player, your mission is to collect every single strawberry across diverse levels. But be aware! Dangers lurk in every corner: from savage enemies and flying creatures to deadly spikes and large blades. With 8 challenging levels, the difficulty only escalates, promising an adrenaline-fueled gaming experience.
How to Play
The controls are simple yet flexible enough for those thrilling jumps and dodges. Use the WASD or Arrow keys to facilitate your character's movements across each level. For executing a double jump, press the 'W' or 'Up' key twice. Remember, your ultimate goal is reaching the red flag that marks completion of a level.
Tips and Tricks
Practice makes perfect - take time to master the timing of your jumps and double jumps. Stay vigilant for unexpected enemy movements and deadly spikes lurking around corners. Prioritize collecting strawberries but don't compromise on reaching the red flag safely.
Features
Exciting sequel with enriched gameplay dynamics.
A total of 8 challenging levels with escalating difficulty.
Dangerous enemies, flying creatures, deadly spikes, and giant blades emphasizing strategic gameplay.
Satisfying double jump mechanism.
What are the best online games?