Kanaksia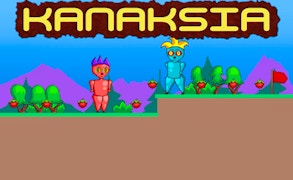 Kanaksia
Description
Step into the robot shoes of the protagonist in Kanaksia, a thrilling 2D platformer game. The objective is clear - secure all strawberries without falling prey to deadly obstacles like menacing foes, spikes, and giant blades. The game gradually ramps up in difficulty across its eight distinct levels, challenging your agility and strategic thinking. You'll need to successfully navigate to the red flag to progress, facing increasing threats along your journey.
How to Play
Mastering the controls is key to survival in this electrifying platformer. Use the "WASD" or "Arrow" keys for movement. Execute a double jump by pressing the "W" or "Up" arrow key twice, allowing you to overcome higher obstacles or dodge threats quickly. Your mission? Make it to the red flag with all strawberries intact!
Tips and Tricks
To excel at Kanaksia, utilize timing and precision strategically. Plan your double jumps carefully over unpredictable spikes and giant blades, and keep an eye out for lurking enemies. Remember, every level brings increased difficulty - stay alert! Be patient, observe patterns, and make progress when the timing is just right.
Features
Immersive 2D Gameplay: Dive into a challenging platformer environment designed to test your skills.
Rising Difficulty: Experience an increasing challenge with each level you conquer.
Clever Obstacles: Navigate through cunning traps such as spikes and giant blades.
Showdowns with Enemies: Face off against adversaries as you race to the finish.
What are the best online games?