Kaido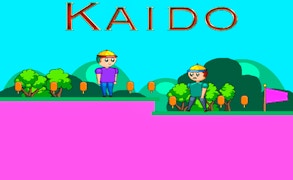 Kaido
Description
In the charming adventure game Kaido, you guide a charming little robot through a series of challenging environments. Your mission is to gather all orange ice cream bars while overcoming hazards like enemies wearing hats, rotating blades, and spikes. Each level is marked by a pink flag, signaling your victory and passage to the next level. There are 8 levels in total, with increasing levels of difficulty.
How to Play
The controls of Kaido are straightforward. Use the "WASD" keys or "Arrow" keys to move around. To achieve a higher jump or clear wider gaps, use the "W" key or "Up" arrow key twice for a double jump. The objective is simple: collect all the orange ice cream bars and reach the pink flag.
Tips and Tricks
Timing is crucial in Kaido, especially when dealing with moving hazards such as rotating blades and spikes. And remember that a double jump can be used not just for covering wide gaps but also for quickly dodging enemy attacks.
Features
Cute and Engaging Characters: The main character, a diminutive robot, adds an endearing touch to this adventure game.
Varying Level of Difficulty: With 8 levels in total, each level presents fresh challenges that increase in difficulty.
User-Friendly Controls: The control scheme is easy to understand and responsive, making it an ideal game for players of all age groups.
What are the best online games?