K Challenge 456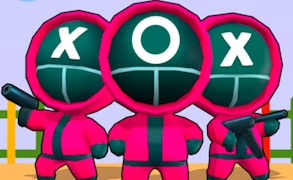 K Challenge 456
Dare to embark on an unprecedented adventure? Delve deep into the enigmatic realms of K Challenge 456, one of the most captivating offerings in the Action genre. It's more than just a game; it's a thrilling roller-coaster ride that transports you to an unexplored island, tagged beautifully with elements of skill and strategy.
K Challenge 456 genuinely redefines the escape games and skill games space. You find yourself trapped, not just physically, but within a labyrinth of tasks that test your mettle at every step. A nefarious invitation unveils itself, unveiling not one or two but five harrowing challenges: 123, stop, Glass Bridge, Marbles, Tug of War and Ppopgi.
The beauty lies in its intricacy; each task is uniquely designed to stimulate your nerves like never before. For instance, the Glass Bridge - this isn't your standard stroll across a picturesque landscape; it's a gauntlet run on thin glass where one wrong step spells doom. Similarly, the Marbles challenge encompasses strategy and deception all rolled into one intense round of palpitation inducing gameplay.
The Tug of War takes you back to primal times where might ruled over right while Ppopgi tests your delicacy and precision in a heart-pounding race against time. The parting gift? An astronomical jackpot worth 456 million rewards awaiting the cunning survivor who can outsmart and outmaneuver all odds.
In summary, K Challenge 456 offers an immersive experience that fuels adrenaline and takes you on an exhilarating ride. Seamlessly blending elements from escape games and skill games, it creates a compelling narrative that leaves you yearning for more even after escaping this secret area.
What are the best online games?
Tags