Jungle Jump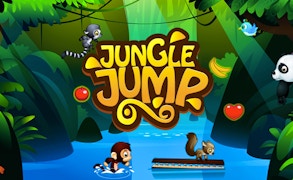 Jungle Jump
Immerse yourself in the thrilling and enchanting world of Jungle Jump, an adrenaline-fueled adventure game that perfectly melds the conventions of animal games, skill games, and hyper-casual games into one enjoyable package.
In this riveting game, your primary goal is not just about survival, but also about guiding a group of lovable creatures across the perilous river. You become their savior, their beacon of hope as you help them bounce across the river to safety. A wooden paddle remains your primary tool - a lifeline as delicate as it is critical - which shrinks with every rotten fruit collected. The stakes couldn't be higher!
The charm of Jungle Jump doesn't stop at its engaging gameplay; various tantalizing collectibles will keep you hooked. The sight of lives and fruit points scattered across the screen makes each bounce not just a leap for survival, but also a dash for rewards. And every power-up brings a funny twist to the paddle, adding an extra layer of excitement and fun to your adventurous journey.
Jungle Jump is not just any other game; it's an experience specifically tailored for kids that seamlessly blends the thrill of adventure with cute characters and funny sounds. Whether you want to enjoy a dose of fun yourself or share an exciting gaming experience with your kids, Jungle Jump proves perfect company.
In sum, Jungle Jump digs deep into the essentials of animal games and skill games whilst maintaining the easy-to-play appeal found in hyper-casual games. It forces you into a deadly yet charming jungle where every leap holds significant weight, fighting for survival while also having fun! It's time to jump into this lush jungle; come join us in
Jungle Jump
.
What are the best online games?