Bloxd.io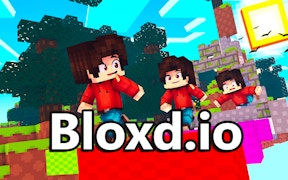 Bloxd.io
Minecraft redefined what it takes to make a fun game and many are trying to follow suit and this includes games like Bloxd.io. As the title indicates, you play as one of many custom blocky people running around a blocky world. Whether you play from a third-person or first-person perspective, it's clear what kind of game it is and that you're free to make your own fun and competition. You'll be online with countless other players jumping in to try new challenges or take another shot at one of the various scenarios. It all comes down to you but it doesn't take long to try all the flavors before you decide on a full serving.
About Bloxd.io
Blocky games may have a simplistic appearance and this leaves more room for creativity which Bloxd.io tries to encourage. It combines elements of adventuring, survival, battling, exploring, and crafting. It gives you a lot to work with and you'll likely come across something that you enjoy. Even if you don't, Bloxd.io gives you the tools to make your own fun whether it's by yourself or with other players. Considering how well the game runs, it's a solid choice if you're looking to quickly start playing with blocks. Since new game types can be added at any time, it's worth checking back in every now and then.
How to Play
To go with the blocky style, the controls are pretty standard. While the rules for the game will change as well as some of the available options depending on what scenario you're playing, the controls are always the same.
Controls
W/Up Arrow - Move Forward
S/Down Arrow - Move Backward
A/Left Arrow - Strafe Left
D/Right Arrow - Strafe Right
Spacebar - Jump
Shift (hold) - Sprint
Left Mouse Button - Break Block/Use Item
Right Mouse Button - Place Block
Q - Drop Block/Item
P - Change Perspective
Control/C/CapsLock - Crouch
Tab - Open Inventory
O - Open Settings
There are icons in the lower left, top right, and lower right of the screen that will change based on what you're playing. The related button will be in the corner of the icon and these can open things like stores, world settings, and character customization.
Bloxd.io Game Modes
There are several different ways to play the game with some only being around for a limited time. These are the current options:
Survival - Enter a blocky wilderness and try to survive as long as you can.
Peaceful - Enter a serene natural world where you can explore and craft in peace.
Creative - Enter a world of infinite blocks and build whatever you want.
Bed Wars - A deathmatch where opponents are only removed if you destroy their bed.
One Block - Enter a void where you start on a single stack of blocks that you can use to build your own world.
Greenville - Become part of a community where you work and contribute to helping things grow.
Cube Warfare - Takes up arms on a battlefield where you try to eliminate other players.
Evil Tower - Enter a randomly generated tower where your only goal is to reach the top.
Doodle Cube - A building competition where the theme changes periodically.
Bloxd.io Hop - Enter a parkour course and try to reach the end.
Hide and Seek - Hide as a block or seek out players hidden as blocks.
Worlds - Explore player worlds or make your own world to explore.
Murder Mystery (Limited) - Take part in a mystery as a bystander, a detective, or a murderer.
The Pit (Limited) - Enter an arena where it's a free-for-all at the bottom of a pit.
Game Details
Developer: Arthur
Platforms: Web ´Browser (PC)
Languages: English
Gameplay Footage
FAQs
What are the console commands?
The console commands for Bloxd.io are as follows:
/spawn - Teleports you to lobby spawn
"/tprequest [name]" - Teleport request the player you want to tp to
/tpaccept - Accept the player that wanted to teleport to you. Add their name behind them to accept that player if multiple players teleport to you.
/tpdeny - Denys the player that requested teleport to you.
/home - Teleports to your set home. Add a name behind the home that you named it to teleport to it.
"/delhome [name]" - Deletes your set home. Type the name behind that you want to delete.
"/sethome [name]" - Sets your home. Add a name behind it to name it.
/homes - Shows your homes.
/players - Shows the names of the players currently in the lobby
/protectors - Shows where your protectors are located at.
/timetillreset - Tells you when the reset chunks will reset. (Doesn't work in Worlds)
Games similar to Bloxd.io
There are many IO games and GamePix has sorted this one into multiple categories including Minecraft Games. Looking through this page, you can find games like the Kogama series, Build Royale, and Mad Gunz.
Bloxd.io belongs to .io, Multiplayer, Adventure and it is often associated with Building Games and Minecraft Games. This game has received 653 votes, 591 positive ones and 62 negative ones and has an average score of 4.3.
It is a game played in landscape and it's playable on Desktop on gamepix.com. This game has been published on 2023-07-14, and updated on 2023-07-21.
What are the best online games?