Jungle Adventure Game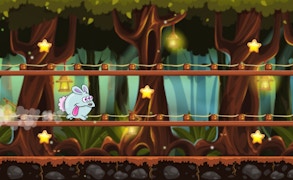 Jungle Adventure Game
If you're a fan of adventure and running games, then the Jungle Adventure Game is tailored for you. This thrilling journey offers an adrenaline-fueled rush that keeps you on the edge of your seat, merging the thrill of high-speed runs with the breathtaking beauty of a lush, uncharted jungle ecosystem.
The Jungle Adventure Game immerses players in a wild ride through unpredictable terrain, treacherous obstacles, and vivid scenery. The gameplay holds true to the classic running game model while ushering in a fresh, modern twist. The controls are seamless and intuitive - each leap, dive, or slide is at your fingertips.
You'll find yourself lost in a world teeming with life and danger. The beautiful but treacherous jungle landscape is richly realized with stunning graphics that transport you into this exotic adventure. Each level brings new and exciting challenges, ensuring that gameplay never becomes monotonous or predictable.
But it isn't just about running. The game's rich lore makes you feel like a true adventurer, exploring uncharted lands with hidden treasures to discover. You are not just surviving; you're thriving in an environment where every step matters.
Where else can you outrun charging rhinos, leap over deadly pitfalls or slide under low branches as if it's all in a day's work? The answer is nowhere but here - Jungle Adventure Game.
So gamers prepare to strap on your boots, take a deep breath, and dive into this exhilarating jungle run journey that promises more than just an adventure - it guarantees a venture into another world. If you think you're up to the challenge, then step in and become part of the vast legion of players who've got their heart racing by playing Jungle Adventure Game.
What are the best online games?
TAGS