Jojo Siwa Dream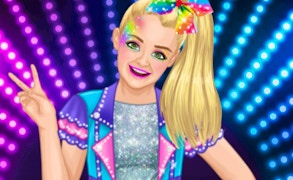 Jojo Siwa Dream
Description
Immerse yourself in the dazzling world of Jojo Siwa with Jojo Siwa Dream, a vibrant dress-up game that unleashes your creativity. As the stylist for Jojo, a popular actress, singer, dancer, and Youtube personality, you get to experiment with various fashion styles and create unique looks. The game features fun music tracks like "Boomerang" and "Kid in a Candy Store".
How to play
The game features an intuitive user interface for you to dress up Jojo. Click on the different categories like clothes, shoes, hair, and more to select your preferred style. Create different outfits in line with Jojo's music themes of "Boomerang" and "Kid in a Candy Store". Progress by exploring different styles and perfecting your creations.
Tips and Tricks
To excel at this game, combine various styles and see what suits Jojo the best. Experiment with unconventional looks to create unique styles. Don't forget to match the outfit with the song theme to earn extra points!
Features
Dress-up gameplay featuring top celebrity Jojo Siwa.
Plethora of outfit options for endless creativity.
Background music featuring popular songs by Jojo Siwa.
User-friendly navigation for easy gameplay.
What are the best online games?