JoJo Run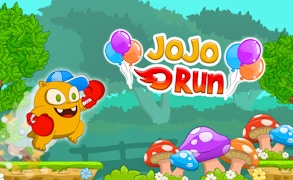 JoJo Run
Description
In JoJo Run, players are immersed in a vibrant and dynamic runner style game. The main objective is to guide JoJo, our animated protagonist, through levels packed with obstacles and adversaries, such as stubborn snails and unyielding walls. Along the way, players must grab as many coins and diamonds as they can to bank points and inch closer to victory. With an endless array of tumultuous levels to conquer, every game is a new adventure!
How to Play
Gameplay in JoJo Run is straightforward with intuitive controls designed for seamless navigation. To steer JoJo around obstacles like walls or snails, you simply use your keyboard arrows or touchscreen control. Collecting coins and diamonds along the way will accumulate points and progress the game levels. The player's skill in timing these moves effectively determines their success in the game.
Tips and Tricks
To maximize your scores in JoJo Run, focus on accurate timing when avoiding obstacles. Maintain steady speeds during runs to enhance precision when collecting coins or avoiding enemies. Utilize the game's hints wisely; they can be key in outsmarting adversaries like snails and overcoming barriers.
Features
Vibrant Graphics: Engaging visuals make gameplay exciting.
Arcade Style Gameplay: Runner style gameplay that involves both skill and tactics.
Diverse Levels: Numerous challenging levels with unique rewards keep gamers engaged.
Collectables: Coins and Diamonds that provide points to advance game levels.
What are the best online games?