Johnny Revenge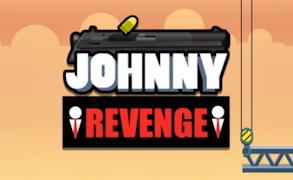 Johnny Revenge
Welcome to the fiery realm of Johnny Revenge, a game where bullets rain and justice prevails. As one of the latest offerings in the action-packed world of gun games and gangster games, Johnny Revenge is a fast-paced adventure that takes you into the heart of mafia life and leaves you at the edge of your seat. Do you have what it takes to take down an underground empire? In this world, there is less talk, more bullet.
Fulfill your super-heroic dreams as you navigate through the sinister world of mob syndicates, armed with your trusty weapons. This isn't just any other gun game where you're mowing down wave after wave of faceless enemies – it's a journey through narrative-driven environments, each with their unique challenges and boss fights.
Johnny Revenge's gameplay mechanics are intuitive and responsive, offering a fresh approach to classic run-and-gun mechanics. This isn't a game where brute force wins - oh no! It's about strategy, timing, and knowing when to pull the trigger. The bullet-time feature not only adds thrill but also an extra layer to the gameplay that fans of gangster games will appreciate.
The stylistic aesthetic and gritty vibe encapture the essence of mafia life perfectly while keeping a light-hearted edge that makes this game truly unique. And let us not forget about Johnny Revenge himself – our intrepid hero who brings a new level of charisma to gun games. His witty punch lines combined with his indomitable spirit make for an exciting and enjoyable playthrough.
In summary, if you're someone who enjoys immersive gun games or riveting gangster games, then Johnny Revenge won't disappoint. With its thrilling gameplay, engaging storyline, and charming protagonist, it's more than just eye candy - it's an adrenaline-pumping adventure that demands spot on your gaming library.
What are the best online games?
TAGS