Jezaa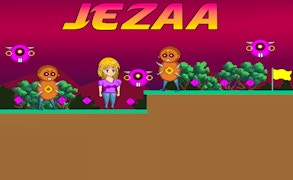 Jezaa
Description
In Jezaa, delve into a vibrant 2D world illustrated in an anime style. As a spirited girl, your mission is to gather elusive purple cubes while dodging an array of treacherous adversaries. Be it monstrous creatures, bullets, rotating saw blades or molten lava pits, danger lurks at every corner. With a total of eight increasingly challenging levels, reaching the yellow flag at each end is your ticket to advance the thrilling gameplay.
How to Play
Smooth intervention is key in Jezaa. Handle your character's movement fluidly using either the "WASD" or "Arrow" keys. Escape danger with nimble agility by executing a double jump - just press the "W" or "Up" arrow key twice in quick succession. Remember, your objective is to collect all the purple cubes and reach the yellow flag unscathed.
Tips and Tricks
Never underestimate any adversary's attack in Jezaa. Always be on the move and maintain spatial awareness of dangerous elements around you. Mastering the double jump will also allow you to dodge attacks more efficiently and reach otherwise inaccessible areas.
Features
Anime-themed Visuals: Experience unique 2D graphics infused with captivating anime-style artwork.
Diverse Levels: Navigate through eight levels each offering distinct challenges and increasing difficulty.
Thrilling Obstacles: Confront deadly enemies and avoid harmful traps en route to victory.
What are the best online games?