Jewel Magic Xmas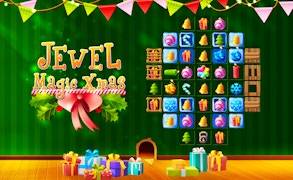 Jewel Magic Xmas
Description
Immerse yourself in the enchanting holiday spirit with Jewel Magic Xmas. This traditional turn-based token matching game is adorned with festive Christmas themed decor. Navigate through a myriad of riveting puzzle levels, challenging your ability to match triplets of tokens. With a daily spin of the lucky wheel, you can earn assistance through precious boosters. Enjoy relaxing gameplay while delighting in the holiday cheer.
How to play
Playing Jewel Magic Xmas is straightforward: just swap two adjacent tokens to create a row or column of three matching jewels. The matched jewels vanish, giving way for new ones to fall into place. To progress through different levels, meet the objectives set at each stage within the given moves. Remember to spin the lucky wheel daily for useful boosters.
Tips and Tricks
Focus on accomplishing the level's objective before running out of moves. Using boosters wisely can turn a tricky level around. Also, creating matches at lower parts of the board can cause a cascade of matches for bigger points!
Features
Festive Gameplay: Enjoy the Merry Christmas theme throughout your gameplay experience.
Daily Lucky Wheel: Spin it every day to win helpful boosters.
Challenging Levels: Test your puzzle solving skills with numerous intricate levels.
Earn Boosters: Boost your scores and progress with strategically earned boosters.
What are the best online games?