Gem Stacker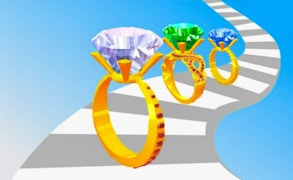 Gem Stacker
Welcome to the glittering world of Gem Stacker, a brilliantly crafted addition to the list of running games and hyper casual games! As a shining star in the genre of jewel games, this hyper-casual runner invites you on a dazzling journey from raw gems to resplendent rings.
Enter the fast-paced fray as you refine your skills in taking rough diamonds, breaking and cutting them, then polishing and upgrading them into their most sparkling form. Your quest is straightforward: collect, stack, and sell these precious stones to customers. Every successful transaction rewards you with money - the more dazzling the gem, the bigger the payout!
Precision and strategy are key as you navigate down the mine's narrow corridors lined with obstacles. A single misstep could mean disaster. So be careful and bring as much gems as possible safely back to your shop.
But Gem Stacker is more than just an entrancing running game; it's a race against time and chance that will test your speed, quick thinking, and resolve. The thrill of dodging obstacles combined with the satisfaction of creating sparkling jewels gives an addictive gameplay experience that leaves players craving for more.
The beauty of Gem Stacker lies not only in its striking graphics but also in its simplicity. It has all the hallmarks of brilliant hyper casual games - easy to learn yet hard to master. This makes it an ideal choice for both gaming rookies looking for some light fun or gaming veterans seeking a new challenge.
In conclusion, if your passion lies in running games or jewel games, give Gem Stacker a shot. Step into this shimmering world and experience what it feels like to become a real jewelry master!
What are the best online games?