Diamond Rush Game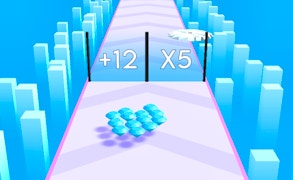 Diamond Rush Game
Welcome to the vibrant, adrenaline-pumping world of arcade games! In this enchanting realm, you'll stumble upon a gem called the Diamond Rush Game, an entrancing blend of running games, hyper-casual games, and jewel games.
The Diamond Rush Game is not your typical run-of-the-mill arcade game. It fuses the thrill of running games with the mesmerizing allure of jewel games. As you navigate through treacherous terrains and unexpected obstacles, each diamond collected takes you one step closer to love and commitment. This concept of gathering diamonds for your fiancé injects an emotionally engaging facet to this hyper-casual game.
The premise is tantalizingly simple yet irresistibly addictive - you must collect diamonds while eluding obstacles. But it's not just about mindless running; you must strategize and think on your feet (literally!). One careless misstep could result in losing your precious gems, adding a gripping layer of unpredictability to this captivating game.
And it doesn't stop at collecting diamonds - the ultimate goal is to create a beautiful ring for your beloved. This creative twist makes Diamond Rush Game stand apart from conventional running or jewel games. It invokes an exciting sense of purpose, elevating it far beyond just another hyper-casual game.
In summary, whether you're an ardent enthusiast of running games seeking a fresh challenge or a jewel game devotee desiring a deeper narrative arc; if hyper-casual gaming is your go-to relaxation avenue, then don't skip out on the Diamond Rush Game. Step into this world of exhilarating runs and brilliant bling to indulge in one of the best arcade experiences around!
The Diamond Rush Game offers more than just a casual gaming experience; it's a breathless pursuit through love, commitment and sparkling rewards!
What are the best online games?