Jeremy Quest 2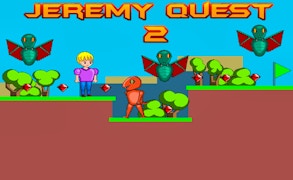 Jeremy Quest 2
Description
Embark on an epic adventure in Jeremy Quest 2, a thrilling 2D platformer. Sharpen your navigation skills as you traverse through various challenges collecting red gems while outsmarting deadly monsters, fire-spitting dragons, and dangerous spikes. The game spans 8 meticulously designed levels, each with an increasing level of difficulty to keep you engrossed.
How to play
The game's controls are intuitive and user-friendly. Use the "WASD" keys or "Arrow" keys to maneuver your character across the platform. For added agility, tap the "W" or "Up" arrow key twice to perform a double jump. With careful timing and movement precision, guide your character towards the green flag to advance to the next level.
Tips and Tricks
Avoid rushing through the platform as this increases the risk of colliding with monsters or falling prey to traps. Instead, take your time to learn enemy patterns and strategize your moves carefully. Remember performing a double jump is crucial for overcoming taller obstacles or dodging incoming projectiles.
Features
Multitude of challenging obstacles including monsters, dragons, bullets, fire, and spikes.
Pulse-pounding action across 8 intricately designed levels.
User-friendly controls that facilitate seamless navigation.
Vibrant visuals that enhance gaming experience.
A unique collection mechanic with red gems scattered across each level.
What are the best online games?