Insta Girls Fruity Fashion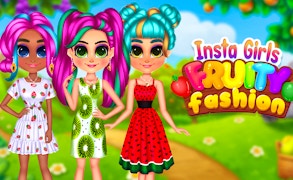 Insta Girls Fruity Fashion
Description
Get ready to dive into the world of fruity fashion with Insta Girls Fruity Fashion. The game is all about helping Dee Dee and her friends, Willow and Noah, get dressed for a fruity fashion party. The player's task is to help each girl explore her wardrobe and choose the perfect fruit-inspired outfit that matches the theme of the party. It's a delightful fusion of fashion curation and party preparation.
How to Play
The game begins with the player selecting between Dee Dee, Willow, or Noah. Using your mouse or touchpad, you will then browse through various categories of clothes, accessories, and hairstyles in their wardrobe. Click or tap on an item for your chosen character to try it on. Your goal is to create a complete outfit that aligns with the fruity theme. Once you are satisfied with your fashion creation, click on the 'done' button to view your masterpiece.
Tips and Tricks
To excel at Insta Girls Fruity Fashion, be creative! Mixing and matching different colors and styles can lead to stunning results. Pay close attention to the accessories as they can greatly enhance your overall look. Lastly, don't be afraid to experiment; there's no wrong choice when it comes to fashion!
Features
A wide variety of clothes, accessories, and hairstyles to choose from.
The freedom to experiment with different combinations for endless fun.
Fruit-themed designs that encourage creativity.
A delightful backdrop that sets the mood for a fashionable fruit party.
An engaging gameplay suitable for girls who have a passion for fashion.
What are the best online games?