Inferno: Meltdown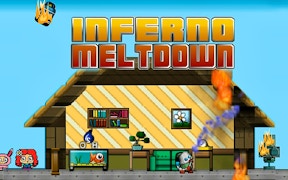 Inferno: Meltdown
Welcome to the thrilling world of Inferno: Meltdown, a riveting addition to the realm of adventure games. Imagine having the courage of a firefighter, but with a technological twist as you enter the role of a fearless robotic firefighter. This game is an exhilarating mix of escape games, skill games, and robot games that's sure to ignite your gaming experience.
As you traverse through different locations, each bursting with danger and excitement, your mission is quintessential - combat the roaring flames. The settings range from an ordinary bowling alley to a gas station, all set under a dangerous inferno. The dynamic and highly flammable gameplay is guaranteed to keep you on your toes. Brace yourself as you encounter oil barrels and petrol pumps ready to explode at any moment keeping you engrossed in this ensemble of skill games.
The game amplifies its stakes by incorporating fans that unintentionally spread fire via air-ducts framing the perfect scenario for lovers of escape games. But remember, Inferno: Meltdown isn't just about dogged survival; it's also about heroic rescues. Amidst the chaos, you'll find helpless people waiting for salvation in this adrenaline-rushing addition to robot games.
Progressing through Inferno: Meltdown isn't just about battling blazes and executing rescues; it's also about personal growth. Use coins collected on different levels to upgrade your firebot and propel your firefighting prowess to new heights.
Sit back and watch as the levels literally burn down while you navigate your path within this lifelike inferno. With its gripping gameplay and dramatic scenarios, Inferno: Meltdown makes for an intensely engaging addition into your collection of robot, escape and skill games.
What are the best online games?