Inferno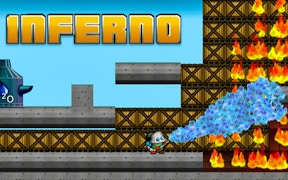 Inferno
Unleash your heroic side and embark on an exhilarating journey into the flames with Inferno, one of the most thrilling adventure games currently setting the gaming world alight. This game seamlessly fuses elements from skill games, escape games, and robot games, creating a unique gaming experience that will test your strategic abilities and quick thinking.
In Inferno, you are in control, battling raging fires across 20+ intense levels of action-packed gameplay. Just like in real-life firefighting, every second counts. Your mission? Outpace the clock and douse the inferno before it engulfs everything and everyone, including you! However, be warned - water supplies are limited, so strategy becomes as vital as courage. Play smart, aim carefully, and make every drop of water count.
The game's innovative mechanics are reminiscent of robot games, requiring precision and skill to master but with a fiery twist that cranks up the stakes. To aid you on your perilous quest, there are numerous Power-Ups and Achievements to unlock. Survive each fiery encounter and climb higher on the leaderboards, achieving High Scores that will immortalize your name amongst the bravest of fire fighters.
What sets Inferno apart is its captivating blend of strategy-focused gameplay found in traditional skill games with the high-intensity action native to escape games. The result is an extraordinary adventure game teetering on the edge of chaos where one wrong move can spell disaster.
If you're tired of run-of-the-mill gaming experiences and are yearning for a more stimulating challenge where your skills can really shine through, then prepare to step into the heat with Inferno. It's going to get hot in here....Are you up for the challenge?
What are the best online games?