Impostor Color Us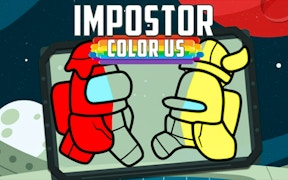 Impostor Color Us
Attention all young artists and puzzle enthusiasts! Impostor Color Us, a standout product in the category of games for kids, is a delightful fusion of engaging puzzle-solving, imaginative thinking, and creative expression. This enchanting game blends drawing games with the entertaining world of coloring games, to provide a truly immersive experience.
A world of color awaits you in Impostor Color Us. With an array of eight unique images at your disposal, players are encouraged to let their imagination run wild. The aim? To color each image as quickly as possible to yield the highest possible score! With 23 vibrant hues to choose from, the possibilities are endless - a rainbow at your fingertips!
Fresh and engaging, this free online game brings out the creativity that lurks within its young players. The rush against time adds an element of thrilling tension to the gaming experience while pushing for efficiency and decision-making skills amidst budding artists.
The game also has a save feature allowing you to preserve your work of art. Cherish your colourful creations, or share them with family and friends! This review wouldn't be complete without acknowledging this thoughtful feature, making this game not just about having fun but also about creating memories.
Unleash your inner Picasso on Impostor Color Us - an exceptional member of the drawing games and coloring games family that keeps you hooked till the end. Its ability to train cognitive speed while enticing artistic flair ensures that it stands tall amongst other games for kids.
This wonderfully imaginative world is full of possibilities for children everywhere. So, step right into Impostor Color Us – because there's nothing like some vibrant colors to brighten up your day!
What are the best online games?