Idle Island: Build And Survive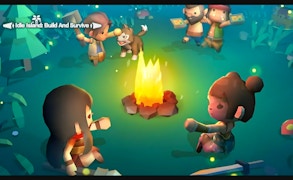 Idle Island: Build And Survive
Welcome to our thorough review of the riveting action-based title, Idle Island: Build and Survive. This brilliant entry in the genre of building-games, city-building-games, clicker-games and idle-games, hands you the intriguing question - if you were alone on a deserted island, how long could you survive?
Immerse yourself in a heart-pounding survival journey that requires real strategy. Around every corner, there's another challenge as you mine for resources, assemble tools, forage for food and erect your own sanctuary against the relentless elements.
The delightful blend of genres in Idle Island: Build and Survive requires stalwart gamers to not only be quick with their click but strategic with their builds. The devil is truly in the details here - it's not just about survival but mastering your environment. Whether you're a veteran city builder or an idle game enthusiast, this game brings out detailed planning skills from its players.
The rich, detailed environment invites exhaustive exploration while gameplay mechanics remain simple yet engaging. Watch as your efforts transform an inhospitable island into a thriving habitat. The thrill lies in the transformation and steadily elevating levels of complexity.
In conclusion, Idle Island: Build and Survive is not just another building game. It's a blend of strategy, action, and careful planning that delivers hours of engaging gameplay. Prove your mettle by taking on nature's full force — build, innovate and survive. What are you waiting for? Dive into Idle Island: Build and Survive and master your survival strategy!
What are the best online games?