Kogama: CreateYourHouse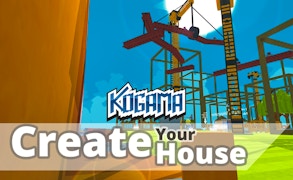 Kogama: CreateYourHouse
Step into the expansive world of Kogama: CreateYourHouse, a gaming experience that redefines the multiplayer genre and takes building games to unprecedented heights. Kogama: CreateYourHouse is not just a game; it's an invitation to let your imagination run wild within a digital platform.
For fans of city building games, this game presents an irresistible challenge. Armed with creativity and a desire to build, you can transform your virtual plot into anything from a humble house, magnanimous castle, bustling store, or even recreate your dream city! The complexity of your creations is limited only by your imagination.
This isn't just a standard city building game. The multiplayer feature elevates the gameplay by allowing you collaborate with friends. This communal aspect breathes life into the structures you erect and injects an element of realism that's largely absent in other city building games.
Kogama: CreateYourHouse sets itself apart with its impeccable graphics and intuitive user interface. But where it truly shines is in its dedication to providing players with the freedom to create - akin to serving as an architect in your own virtual landscape. The thrill of watching your ideas translate into grand structures right before your eyes is unparalleled.
If you're looking for an immersive gaming experience that combines the thrill of multiplayer interaction with the satisfaction of creating something from nothing, then Kogama: CreateYourHouse deserves a spot on your gaming bucket list. Whether you're a novice builder or a seasoned architect, this game promises hours of enjoyable gameplay for everyone.
In conclusion, Kogama: CreateYourHouse successfully blends multiplayer excitement with city building finesse, making it an absolute win for gamers who appreciate both genres.
What are the best online games?