Idle Evolve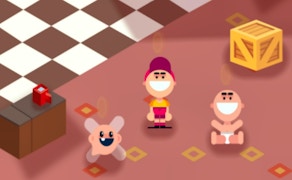 Idle Evolve
Immerse yourself in the fascinating world of Idle Evolve, a captivating addition to the genre of arcade. Perfectly blending the unique attributes of clicker games, idle games, and tap games, Idle Evolve provides an engaging platform for avid gamers to showcase their skills and strategy.
In this thrilling arcade game, you're tasked with evolving your babies. Each tap brings you a step closer to unlocking mesmerizing evolutions, ensuring that every second spent on this game is a step towards achieving your goals. With its simple premise and addictive gameplay mechanics, Idle Evolve is a must-try for all fans of tap games.
The graphics in this game are visually appealing, providing an immersive experience each time you tap to evolve your babies. The sound effects are equally alluring, enhancing the overall experience of this truly remarkable blend of an idle game and a tap game. It's not just about clicking; it's about strategizing every move to speed up your evolutionary journey.
One of the most exciting features that make Idle Evolve stand out among other clicker games is its incremental rewards system. As you evolve your creatures, you unlock increasingly rewarding prizes that make every click worthwhile. When it comes to idle gaming, Idle Evolve reigns supreme!
In conclusion, for those in search of an addictive arcade game that perfectly melds elements from idle, clicker and tap genres into one seamless package - then look no further than Idle Evolve. The unique concept and compelling gameplay ensure hours upon hours of idle gaming fun. Start your evolutionary journey today with Idle Evolve!
What are the best online games?