Idle Crafting Empire Tycoon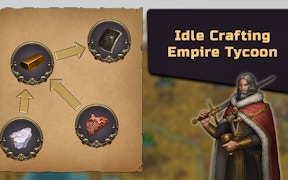 Idle Crafting Empire Tycoon
Description
In Idle Crafting Empire Tycoon, you are the ruler of an island empire, exploring and uncovering resources to strengthen your rule. This game combines economic simulation and clicker gameplay mechanics to create an immersive, time-killing experience. You can hire managers, traders, and upgrade factories to optimize your profits. Balance resource production and fulfill orders to expand your empire's recognition throughout the fantasy world.
How to Play
The game is primarily controlled by clicking. Beginning with basic resources, you gradually build your empire: explore for new resources, recruit managers and traders, upgrade your factories, and complete production orders. The goal is to create a flourishing economy that runs smoothly even when idle. The game also features numerous upgrades that help maintain productivity balance.
Tips and Tricks
Remember: balance is key in Idle Crafting Empire Tycoon. As exciting as discovery can be, don't neglect existing resources or managers in favor of new ones. Upgrading existing elements will maintain production efficiency. Furthermore, don't dismiss the value of idle time - it's when much of the income generation happens.
Features
Economic simulator with elements of exploration and crafting.
Idle gameplay allowing profits even when not actively playing.
Managerial aspects for comprehensive empire management.
A variety of resources to discover and utilize for building your empire.
In-depth factory upgrading system for maximizing output.
What are the best online games?