Ice Queen Wedding Album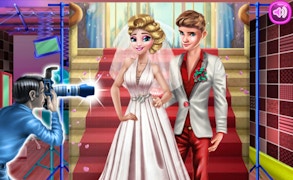 Ice Queen Wedding Album
Step into a whimsical winter wonderland and prepare to be swept off your feet with the latest sensation among Games for Girls, the captivating Ice Queen Wedding Album. This entrancing game is a glorious amalgamation of Princess Games, Dress Up Games, and Hairdresser Games, all presented within the enchanting realm of a royal wedding.
The game welcomes you into an icy palace, where love and fashion fuse to create an awe-inspiring experience. Your primary task? Adorn the Ice Queen and her prince for their much-awaited matrimony, transforming a simple photoshoot into an unforgettable flurry of style!
All hail the power of choice! This feature-rich game hands over the reins of creativity to you, empowering you to pick out fabulous outfits for each of them. But it doesn't stop there. The customization extends to decorating the photo album picture, adding that personal touch that makes every memory truly yours.
The excitement builds up as you dress up not just anyone, but bridesmaids who are princesses themselves - a rare treat in any Fashion Games. Pick out unique dresses for each one, because no two princesses are alike. With you lending your stylistic expertise, these princesses will be rendered breathless in beauty.
Ice Queen Wedding Album captivates with its layers of playability. You're not just playing dress-up; from choosing breathtaking outfits to adding final touches on photo album decorations, this game gifts players with the wholesome experience they've been seeking.
To all budding fashionistas or those who simply enjoy being part of a magical story, dive into the Ice Queen Wedding Album! Embrace this icy enchantment where every girl can transform into a princess and every stylist can become a magician.
What are the best online games?