Ice Queen Toddler Vaccines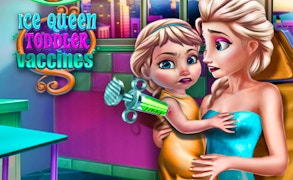 Ice Queen Toddler Vaccines
Embark on an enchanting journey into the world of Ice Queen Toddler Vaccines, a delightful investment in the niche category of Games for Girls, specifically designed as a toddler game. Aimed at educating little ones about essential health procedures in an enjoyable and engaging way, this game stands out among the crowd.
With its focus on a bright and brave little girl venturing into the world of adult responsibilities, this unique title straddles the boundary between fun and instruction. It expertly incorporates elements from traditional Princess Games to keep it light while introducing children to the concept of staying healthy.
The game flow is deftly designed to guide your tiny tot through the process. Starting with ensuring our cute protagonist takes her vitamins with plenty of water, players learn about essential health practices while having fun. This segues seamlessly into learning how to disinfect an area before administering a vaccine - making this one of those rare Operation Games that kids will happily flock to.
The central premise revolves around a typical doctor's visit, yet there's nothing ordinary about it. The way it inspires young minds to consider such scenarios as fun rather than daunting is nothing short of magical. Every visit to the doctor in-game becomes an event filled with joy, thereby instilling positive associations with health check-ups.
In conclusion, Ice Queen Toddler Vaccines does a commendable job of merging education and entertainment in its beautifully crafted virtual world. Perfect for little girls and aspiring princesses, this game sets a new standard in imbuing real-life lessons into fun-filled playtimes. It's not just another offering in the roster of Games for Girls, but an essential tool helping toddlers take their first steps towards understanding health practices. Bravo!
If you are on the lookout for meaningful and entertaining content within toddler games, don't overlook what Ice Queen Toddler Vaccines has to offer.
What are the best online games?