Ice Princess Spooky Costumes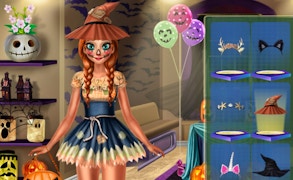 Ice Princess Spooky Costumes
Are you searching for the perfect blend of Games for Girls, Princess Games, dress up games, Hairdresser Games, and makeup games? Your quest ends with the enchanting world of Ice Princess Spooky Costumes.
This captivating game thrusts you into an icy realm where you aid the princess in her quest to break free from her regal confines. No longer satisfied with tiaras and gowns, she seeks your expertise to transform her look entirely. The gaming experience is as frosty as it is fun - a perfect escape into a winter wonderland.
In this relished part of Princess Games, you're not just dressing up a princess, but creating an entire character -from being a cute kitty to a mystical unicorn. Fancy something more macabre? Deck her in the guise of a wicked witch or spooky scarecrow!
The game uniquely combines elements from dress up games, challenging your creativity as you mix and match different items. However, it doesn't stop there. With makeup elements borrowed from popular Hairdresser Games and makeup games, you also get to adorn her with fetching accessories.
A standout feature is that it pushes the player's fashion skills to the limit. You are not just playing; you're creating, moulding and making sure that your icy style impresses the princess herself!
In conclusion, Ice Princess Spooky Costumes successfully merges various gaming genres to create an engaging digital playground. The freedom it provides players to manipulate the looks of their favourite characters is truly refreshing amongGames for Girls. If there's snowfall forecasted in your gaming weather today, this is an absolute must-play!
What are the best online games?