Ice Princess Resurrection Emergency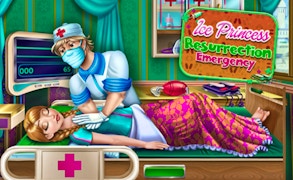 Ice Princess Resurrection Emergency
Embrace the thrill and allure of medical emergencies like never before with Ice Princess Resurrection Emergency, a fixation among Games for Girls that will satisfy your role-playing needs. As catchy as it is educational, this game takes the reins in the domain of princess games, leaving you in awe and yearning for more.
Dive into the fast-paced, adrenaline pumping world of hospital rooms and emergency medical procedures - a journey sure to be relished by those fascinated by the realm of operation games. This isn't just another princess tale, it's a vivid exploration into how to breathe life back into those clinging onto it. Ice Princess Resurrection Emergency allows you to step into the capable shoes of a nurse, with your favorite princess as your patient.
Ice Princess Resurrection Emergency stands out among other Games for Girls, meticulously designed to teach important skills simultaneously with gameplay. It challenges you not only as a game strategist but also as a virtual medic performing actual CPR procedures when the ice princess passes out. See firsthand how chest compressions are applied, learn to use a defibrillator machine - all while ensuring our beloved Ice Princess is kept hydrated and takes her medicine on time.
A splendid mix of entertainment and learning, this game transcends beyond the traditional confines of simple amusement. It uniquely combines role-playing elements with real-world medical procedures instilling valuable knowledge in young minds. The Ice Princess Resurrection Emergency isn't just another title in the series of princess games. It's an experience that cultivates responsibility, attentiveness and care in its players while keeping them engrossed in an enchanting tale centered around their favourite Ice Princess.
What are the best online games?