Hurdles Heroes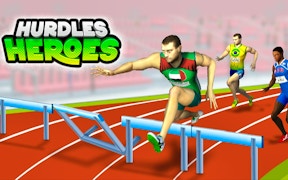 Hurdles Heroes
Description
Embrace the thrill of global athletic competition in Hurdles Heroes. An action-packed running game, players navigate through challenging hurdle races across different global locations. The essence of the game lies in perfectly timing your jumps to conquer the hurdles and accelerate ahead. Choose to compete individually or play along with a friend in the two-player mode, battling it out to clinch victory on every one of the seven continents.
How to play
In this digital race, timing is key; jump over hurdles at just the right moment to gain speed and get ahead. Each match takes place on a distinct global continent, each offering unique challenges. Choose whether you want to navigate these races solo or go head-to-head with a friend in 1 Player or 2 Player mode. The goal is simple: be the first one at the finish line!
Tips and Tricks
To win Hurdles Heroes, perfect your timing. Jumping too early can slow you down while jumping too late can trip you over a hurdle. Mastering your jumps will give you an edge over your competitors.
Features
Hurdles Heroes boasts some exciting features:
Multiplayer option: compete against friends in 2-Player mode.
Diverse locations: race across 7 different continents each offering unique challenges.
User-friendly gameplay: simple controls yet challenging hurdles make it fun for all ages.
Tournament mode: strive for global domination by winning tournaments.
What are the best online games?