Hunter Assassin 2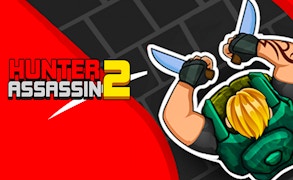 Hunter Assassin 2
If it wasn't obvious enough, both hunters and assassins tend to make for very successful game characters and Hunter Assassin 2 combines them… again. The mark of any good assassin or hunter for that matter is to be able to get as close to your target without realizing that you were ever there in the first place. While this game may not have all the depth and angles of a series like Assassin's Creed, it stays true to the concept that it embodies. Play and see how many levels you can fully explore without the enemy ever detecting your presence.
About Hunter Assassin 2
The appeal of stealth games is in the stealth, the idea of outsmarting people and traps in order to achieve a precise goal. This one may be focused on taking out targets, but it's still stealth-based nonetheless. Your character may look like a strong and capable hunter assassin, but they have chosen to go for the close and personal route meaning their equipment is light while the targets are armed with sights and automatic weapons. However, if they can't hear or see you, all that gear won't do much when it comes right down to it.
How to Play
Hunter Assassin 2 is a top-down 2D stealth game that operates using tap controls through the mouse. To move the character around, you move the cursor to an open spot on the map and click the Left Mouse Button. The character will always take the shortest path to the location and will stop once they arrive. They'll interact with collectibles and enemies automatically upon contact.

The goal of the game is to clear each level by eliminating all the targets. The number of targets in the level is indicated by a counter in the top left corner of the screen. The targets will patrol different parts of the level using flashlights to indicate their field of vision. Most of the area will be in shadow and as long as the hunter stays out of the targets' lights, they'll remain undetected. To eliminate a target, you need to make contact with them as you approach them from their blind spot. If a target spots you, they'll attack and force you to try again.

Throughout each level are Stars that you can collect by deftly navigating the area. This improves your score and earns you rewards which you can use to unlock different character skins from the main menu.

Tips and Tricks
Despite being a tapping game, you want to take your time and plan your route. Get to a vantage point where you can clearly observe the target patrolling. Find the right time to strike one and then escape before the other target can get there to investigate.

Game Details
Developer: Ruby Game Studio
Platforms: Web Browser (PC and mobile) and Android
Languages: English

Gameplay Footage
FAQs
Is Hunter Assassin 2 a free game?
The game is currently free to download and play on all of its available platforms. The Android version contains ad and in-game purchases.

Games similar to Hunter Assassin 2
From its design and concepts, this title can be found in the Escape and Clicker Games categories on GamePix. The other games in those areas include Police Car Chase, Among Us, Royal Guard, and Old TV.
What are the best online games?