Hunt - Feed the Frog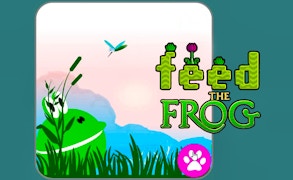 Hunt - Feed the Frog
Description
Immerse yourself in the world of Hunt - Feed the Frog, a delightful arcade game where your task is to satisfy the frog's hunger by hunting insects. With each passing minute, the frog's appetite decreases by one point, making your role crucial to its survival. The lively graphics and engaging gameplay make it an addictive pastime.
How to Play
The game operates with simple controls that are easy to grasp. On a computer, use your mouse pointer to click on the insects appearing on the screen. For touch screens, simply tap on the critters with your finger. Be quick, as every insect caught feeds your frog and maintains his energy levels!
Tips and Tricks
To excel in this game, fast reflexes are key. Try to anticipate the movements of the insects for more successful hunts. Remember that the frog's hunger reduces by a point every minute, so keep hunting steadily!
Features
Straightforward Gameplay: Quick to learn yet hard to master.
Fascinating Graphics: Vibrant colors and adorable characters enhance user experience.
Real-Time Challenge: With the clock ticking down, your skills will be tested!
Inclusive: Suitable for players of all ages and skill levels.
What are the best online games?