Hungry Snake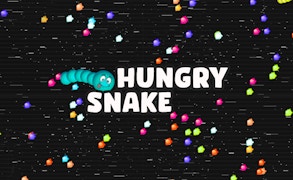 Hungry Snake
Description
Experience the classic arcade model with a fresh twist in Hungry Snake.io! This game reworks traditional snake gameplay with modern artwork, and includes exciting live online events! Start your journey as a small worm and devour your way through each level to become a magnificent snake. Collect power-ups along the way and outlast your opponents in this captivating survival game.
How to play
The controls of Hungry Snake.io are very intuitive. Direct your worm using directional controls and consume items to grow larger. Power-ups can offer a slight edge, allowing you to survive longer. Progress is measured by your growth rate and leaderboard ranking. The ultimate goal is to become the largest snake in the arena!
Tips and Tricks
Avoid colliding with other players - this will end your game swiftly! Pick up power-ups whenever possible for additional advantages. Be strategic with your movements: try to trap smaller opponents to consume them, but be mindful of bigger snakes that might turn the tables on you.
Features
Classic snake gameplay: Simple yet engaging arcade mechanics.
Retro-modern artwork: Enjoy trendy visuals along with nostalgic gaming elements.
Live online events: Compete against players from around the globe in real-time showdowns.
Persistent Leaderboard: Keep track of your progress and aim for the top spot!
Variety of power-ups: Boost your survivability with different power-ups spread across the gameplay area.
What are the best online games?