Little Big Snake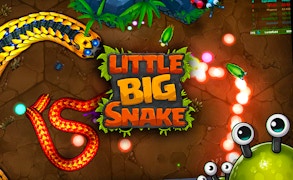 Little Big Snake
The desire to be at the top of the food chain appeals to something primal in all of us which may explain why games like Little Big Snake end up being so popular. In this child of the original Snake game, you are a snake trying to get bigger. You start off quite small and harmless but can eat your way to the top as you get bigger and so does your prey. However, there isn't enough room for all snakes at the top of the food chain so you'll be fighting for your territory among other players. Still, it's possible to just keep to yourself and enjoy growing gradually instead of aggressively.
About Little Big Snake
It's amazing the kind of impact that a little game about a line of squares trying to eat dots would have and that it has led to so many more complex creations. While the heart of the original game is still here, it has all exterior of a modern online game that could play comfortably on your computer or your phone. While it is competitive, it never feels as aggressive or violent as some other online multiplayer games. You can enjoy the game on your own, with friends, playing for yourself, or going against others and that's the value of it.
How to Play
Little Big Snake is Snake with more fluid movement, more space to work in, and more to interact with all via the mouse. Your snake will move at a constant speed in whichever direction your mouse cursor is located. By tapping the left mouse button, your snake will gain a burst of speed and you can also hold down the button for a continuous boost. The goal is simply to become the biggest snake in the area.
To reach this goal, you need to eat. The area is large and circular with lots of potential food. You can start by eating glowing pellets (Nectar) which are scattered and stationary. Bugs such as crawlers and flyers will run from you, but provide more food when eaten. Bouncing blobs called Bubbles need to be hit multiple times before they burst into pellets that can be eaten and sometimes a powerup that you can use. You can also eat the remains of other snakes provided that you come across them.
The main threats in the game are other snakes and obstacles. While you can go over your own body without risk, running into the bodies of other snakes will destroy yours. However, if you can get an opposing snake to run into your body, they'll turn into pellets which you can eat for massive growth. Other obstacles include things like rocks, thorny bushes, and the borders around the arena. Crash into any of those and your snake will be destroyed.
When your snake dies, it can be reborn as a Juja bug which looks something like a ladybug. Though they can't get big as snakes, they can fly around out of harm's way and still collect things to improve your overall score. Controls are the same as a Juja bug, but you need to click to land in order to collect pellets and you move really slow on the ground. Click again to take flight and get out of harm's way.
Tips and Tricks
Little Big Snake is a modern snake game that is built on progression, so you should focus on your own score and growth. The snakes here are much more spread out so be careful when navigating so that you don't get caught between them. Bubbles and upgrades are tempting, so rather than risk bumping them into other snakes, try to surround them with your own body.
Little Big Snake Features
Since the game is built around progression, there are a lot of features you can enjoy as you keep playing.
Lair - This shows your snake's progress and the more matches you play, the more you can unlock such as Bubbles and Snake Parts.
Evolution - Gold earned during gameplay can be used to purchase passive upgrades to improve your snake and the effectiveness of powerups.
Achievements - A list of tasks and objectives to complete in order to earn bonuses and currency like Rubies.
Pets - A collection of critters that you can raise and will provide passive bonuses to your snake.
High Score - Shows the current player ranking.
Team Play - Play with other snakes as part of a team to become the biggest.
Shop - To spend Rubies on Gold and treasure chests.
Game Details
Developer: Addicting Games Inc.
Platforms: Web Browser (PC and mobile) and Android
Languages: English, Dutch, Russian, Vietnamese, Indonesian, Hindi, and Spanish.
Gameplay Footage
FAQs
How do you play Little Big Snake with friends?
First, you need to set up an account to get a player ID. Then, go to your Lair and click the Friends button. Here you can Add or Invite friends to play by entering their names or ID numbers.
What's the maximum score?
In the current version of Little Big Snake, a player has earned a total rating score of over 175, 200, 000 points.
Games similar to Little Big Snake
From the way the game is arranged, you can find it in the IO and Snake Games categories on GamePix. Also in these categories are games like Spinner, Hole, Wormate, and Sushi Party.
What are the best online games?
TAGS