Hugi Wugi 2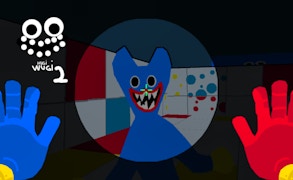 Hugi Wugi 2
Description
Welcome to Hugi Wugi 2, a fun-filled escape game where you run from a surprisingly endearing blue creature. While it may seem harmless at first, don't be fooled - if it catches you, game over! Your objective is to make your way through the labyrinth and reach the safety of a yellow box. Conquer the fear and survive the chase in this thrilling second episode.
How to play
Playing Hugi Wugi 2 is simple. Use the WASD keys to navigate your character through the maze-like terrain. The mouse cursor can be used to pivot around a full 360 degrees, providing invaluable situational awareness. The "p" key acts as a pause button, allowing for strategic breaks in gameplay.
Tips and Tricks
Always keep an eye on your surroundings - the Hugi Wugi can appear from anywhere. Use the 360-degree view feature to its full potential and make sure you always have an exit strategy planned. Remember, speed and strategy are key to survival.
Features
Action-packed escape gameplay
Cute yet terrifying antagonist - Hugi Wugi!
Precision controls for comprehensive navigation
Suspense-filled ambient setting, perfect for an escape game!
What are the best online games?