Horse Simulator 3D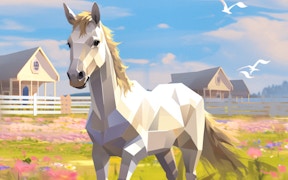 Horse Simulator 3D
Description
In Horse Simulator 3D, it's time to saddle up for an immersive adventure! This game draws you into a world where you embody a horse, taking on a myriad of tasks, raising a family, winning competitions and aiding villagers. Engage in thrilling mini games and solve complex tasks while navigating through a vast island. Customize your horse, train it to become stronger and protect your herd from predators.
How to play
The game is controlled using your keyboard and mouse. Move around using the WASD keys and interact with the environment through the mouse or touch controls. Progress in the game by earning experience points via completing tasks and defending yourself against other animals. You can spend these points on improving your horse's abilities.
Tips and Tricks
Utilize strategy to complete tasks efficiently. Focus on upgrading your character's skills based on the challenges you face often - it's vital when defending against predators or running races. Also, don't forget about upgrading your home for restorative benefits.
Features
A beautifully crafted open world with various landscapes like fields, forests, mountains, gardens and villages.

A wide range of customization options for personalizing your horse character.

An array of mini games that test your skill and ingenuity.

Achievements that reward you for different actions undertaken in the game.

An engrossing storyline culminating in an unforgettable adventure!
What are the best online games?