Hoona 2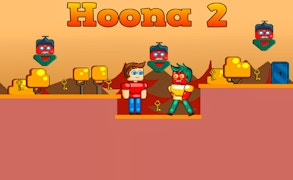 Hoona 2
Description
Immerse yourself in the world of Hoona 2, a captivating 2D platformer. As a brave adventurer, your mission is to recover precious golden keys while skilfully evading nefarious foes, soaring bots, deadly saws, and piercing spikes. With each proceeding level, the challenge escalates, testing your skill and determination. Derived from the much-loved original "Hoona" series, this exciting sequel offers an upgraded gaming experience.
How to play
In Hoona 2, navigation is accomplished using either the "WASD" keys or the Arrow keys. To perform a double jump - which is invaluable for surmounting higher obstacles or avoiding threats - simply hit the "W" or "Up" arrow key twice rapidly. The ultimate goal is to recover all golden keys and reach the exit door to advance to the subsequent level.
Tips and Tricks
Maintain a strategic approach in Hoona 2. Observe patterns of enemies and traps to plan your moves efficiently. Remember that using double jump wisely can save you from dangerous situations or help reach hard-to-access areas with valuable golden keys.
Features
Engaging 2D platformer gameplay, inspired by classic games of the genre.
A total of 8 challenging levels each progressively more demanding than the last.
An array of obstacles including flying bots, saws, spikes and tricky enemies.
The sequel of the loved original "Hoona" series offering an improved gaming experience.
What are the best online games?