High School BFFs Girls Team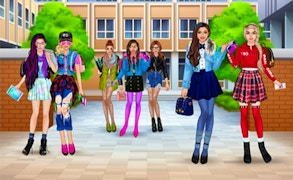 High School BFFs Girls Team
Welcome to the vibrant world of High School BFFs Girls Team, a delightful combination of dress-up-games, fashion-games, and the most engaging of games-for-girls. This immersive virtual experience lets you dive headfirst into the enthralling universe of high school fashion and is a must-play for those who have a penchant for makeup-games.
In this captivating game, your task is to assist the popular girls at school, step into their shoes (quite literally!), and navigate their cool college life brimming with parties and fun. You'll quickly realize that being stylish isn't as easy as it seems, but with a plethora of fabulous clothes at your disposal, you'll surely rise to the challenge.
The appeal of our free dress-up games for girls lies in its unlimited choice. From applying the perfect makeup to selecting trendy hairstyles, you have full autonomy. But that's not all! The infinite array of clothing options ranging from shirts, jackets, skirts, hats - you name it, we have it!
We all know how dull high school uniform can sometimes be. In High School BFFs Girls Team, we defy this stereotype and prove that student outfits can be both amazing and interesting! So style up the cute BFFs in these engrossing teenage fashion games, explore different looks in an ideal setting.
In conclusion, High School BFFs Girls Team is a much-needed breath of fresh air in the genre of dress-up and makeup games for girls. The immense variety coupled with the freedom to experiment makes it a cut above the rest. So what are you waiting for? Immerse yourself in this virtual fashion world today!
What are the best online games?