Hiddentastic Mansion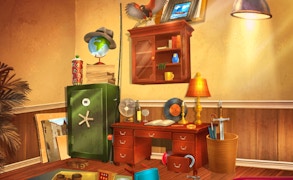 Hiddentastic Mansion
Immerse yourself in the rich narrative and captivating visuals of Hiddentastic Mansion, a sparkling gem in the world of Adventure Games. By intertwining the thrilling elements of hidden object games, tap games, and clicker games, this title offers a unique gaming experience that is perfect for anyone seeking a good mystery.
In Hiddentastic Mansion, you will step into Emma's shoes, who embarks on an exhilarating journey to turn a run-down manor into a grand estate. The game's interactive storyline fuses beautifully with its gameplay mechanics - making it an enthralling journey filled with scavenger hunts, strategic selling, and mansion renovation.
The charm of this game lies in its attention to detail. From the beautifully illustrated objects to the detailed backgrounds reminiscent of grand European mansions, Hiddentastic Mansion is more than just your typical hidden object game. It brings together the simplicity of tap games and clicker games with the intricate puzzle-solving aspect of adventure games.
As you search through 5 exciting locations for hidden treasures and antiques, each tap brings you closer to restoring the estate's lost glory. With every successful sale of these objects, you contribute to rebuilding Emma's inherited mansion from its dilapidated state to one brimming with opulence.
With stunning graphics, captivating gameplay, and an engaging storyline, Hiddentastic Mansion is an ideal choice not only for adventure seekers but also for those enjoying Games for Girls. Whether you're a seasoned gamer looking for a new thrill or just someone seeking a fun pastime, Hiddentastic Mansion guarantees hours of delightful playtime. Join Emma in her adventure today!
What are the best online games?